 
VeggieAnimal Puppy dog 2 kg
VEGGIEANIMALS CROCCHETTE VEGAN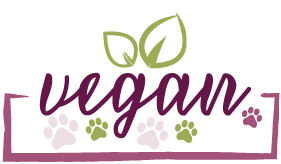 for puppy


VeggieAnimals Puppy is rich and tasty, as well as environmentally friendly.
It contains everything a puppy needs to grow strong and healthy. With pea protein, rich in essential amino acids,
coconut oil, which helps to strengthen the immune system, cabbage kale, rich in iron, calcium and
vitamin C and ginger, which helps with digestive and inflammatory issues

Veterinary formula:

Composition: Pea protein (>24%, rich in essential amino acids), wheat, corn (natural source of vitamins and folic acid), rice, peas, sunflower oil
(rich in vitamin A and E), freeze-dried vegetables (palatant 100% vegetable), coconut oil, brewer's yeast (rich in fructo-oligosaccharides),
chicory (min. 8% inulin), cell wall extract from saccharomyce cerevisiae, dicalcium phosphate, fresh carrot, calcium carbonate, apple pulp,
orange pulp, spinach, cabbage kale, kelp seaweed, broccoli, quinoa, flaxseed, ginger, willow and pennyroyal.
Formula developed by specialised veterinarians based on FEDIAF guidelines.
Complete food, no supplementation necessary.
Contains optimal amounts of Taurine and Vitamin B12: Substances considered essential for dogs.

For them to grow healthy and strong:

Contains pea protein, rich in essential amino acids.
Contains maize, a natural source of vitamins and folic acid. Folic acid together with vitamin B12 and vitamin C help to combat anaemia.
Contains sunflower oil, rich in vitamins A and E.
Contains coconut oil to help strengthen the immune system.
Contains brewer's yeast, rich in fructo-oligosaccharides, with prebiotic and anti-carcinogenic effects as well as providing shine and health to skin and coat.
Contains chicory, rich in FOS, with 8% inulin. Contains L-tryptophan and L-lysine. Tryptophan supports well-being and is known as the amino acid of happiness, as well as helping muscles, enzymes and neurotransmitters to function properly. L-lysine is a powerful antioxidant and helps to keep viruses such as herpes at bay.
Contains spinach, rich in folic acid and beta-carotene, powerful antioxidants.
Contains kale, rich in iron, calcium and vitamin C.
Contains kelp algae to aid metabolism.
Contains broccoli rich in provitamin A and vitamin C, with potassium, calcium, phosphorus, magnesium and iron.
Contains quinoa, rich in magnesium and omega 3.
Contains flaxseed, which is rich in fibre and omega-3s that improve cardiovascular and joint health.
Contains ginger, which helps with digestive and inflammatory problems.
Contains willow, recommended for dogs with arthritis.
Contains pennyroyal, which stimulates liver function and aids the digestive system.
Extra healthy fats.
No animals are killed during processing: Cruelty free food!

Vitamins, provitamins, trace elements and minerals per kg:
Vitamin A 12.000 UI
Vitamin D3 2.000 UI
Vitamin E 50 UI
Vitamin K3 1 mg
Vitamin B1 1,34 mg
Vitamin B2 4 mg
Vitamin B6 2 mg
Vitamin B12 0,02 mg
Niacin 20 mg
Calcium D-pantothenate 10 mg
Biotin 0,18 mg
Taurine 100 ppm
Iron (iron (II) sulphate, monohydrate) 80 mg
Iodine (potassium iodide) 1 mg
Copper (copper (II) sulphate pentahydrate) 10 mg
Manganese (manganese (II) oxide)) 20 mg
Zinc (zinc oxide) 100 mg
Selenium (sodium selenite) 0,25 mg
B.H.T 7,5 mg
Folic acid 0,25 mg
Choline chloride 250 mg
Analytical components:
| | |
| --- | --- |
| Crude protein | 26 |
| Crude fibre | 4,90 |
| Crude fat | 14 |
| Inorganic matter | 6,14 |
| Calcium | 1,2 |
| Phosphorus | 0,8 |
| Sodium | 0,32 |
| Magnesium | 0,11 |
| Metabolizable energy | 3630kcal/kg |

VeggieAnimals PLUS cares for the planet:
As a 100% plant-based food, it does not contribute to the negative impact that farms cause by polluting soil, water and air.
Did you know that by consuming VeggieAnimals PLUS you participate in the donations, sponsorships and fostering that we carry out, and you also help people at risk of social exclusion, as some of our suppliers are foundations that provide employment for people at risk?
Why do we use corn? Maize protein is an ingredient with a 60% protein content that is extracted from the maize kernel after most of the starch fraction has been separated. Only 30 kg of this fraction is obtained from each tonne of maize. It is technically called CGM (corn gluten meal) and does not contain the gliadin linked to coeliac disease. It is a product that costs two to three times as much as animal meal and is processed in domestic factories using non-GM maize.