 
VeggieAnimal Plus dry food Vegan for cat 2 kg
VEGGIEANIMALS DRY FOOD VEGAN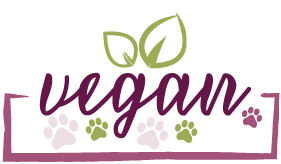 For cat


VeggieAnimals PLUS is soooo yummy, the seasoning is delicious, all natural of course, and also contains tapioca (which is good for strong bones and contains lots of iron),
pumpkin (with healthy fibre to help regulate digestion), and cranberries (that are good for preventing bacteria in the urinary system), is lower in phosphorus and contains arachidonic acid.

Composition: Maize protein, rice, maize, sunflower oil, peas, dehydrated potato, tapioca, rice bran, yeasts, rice protein, wheat protein, hydrolysed vegetables (vegetarian palatant), apple pulp, calcium carbonate, barley, seaweed oil, algae, seaweed, dehydrated vegetables (pumpkin, alfalfa, carrot, plum, blueberry, parsley, sage, thyme, liquorice, honeysuckle, spirulina, oregano, mint, yucca Schidigera, chicory (rich in FOS)), potassium chloride, sodium chloride, monocalcium phosphate, plant extracts (citrus, grape peel, green tea, dandelion, aloe vera) Formula developed by specialised veterinarians based on FEDIAF guidelines
VeggieAnimals for Cats is suitable for all cats and is particularly recommended for:
Prevention of urine crystals
Overweight and obesity
Skin and hair problems
Digestive problems
Heart problems
Animal protein intolerance
Neutered cats
About Ingredients
Suitable for human consumption
100% plant-based, 100% natural
Free of addictive substances, chemical flavourings, medicinal substances, toxins and hormones
Contains methionine and cranberries to protect the urinary system from infections and crystals.
Contains antioxidant tocopherols.
Contains chicory, rich in FOS. Contains L-tryptophan and L-lysine.
Contains pumpkin, with healthy fibre to help regulate digestion.
Contains tapioca, which strengthens bones and contains a lot of iron.
Low-fat: suitable for neutered, overweight and obese animals.

Vitamin A 22000 UI
Vitamin D3 1700 UI
Vitamin E 180 mg
Vitamin K3 3,10 mg
Vitamin B1 8,99 mg
Vitamin B2 12,40 mg
Vitamin B3 84,88 mg
Vitamin B5 33,76 mg
Vitamin B6 8,27 mg
Vitamin B7 0,21 mg
Vitamin B9 2,07mg
Vitamin B12 0,06 mg
L-threonine 200 mg
L-lysine monohydrochlorohydrate 750 mg
L-tryptophan 100 mg
DL-methionine 800 mg
Taurine 1500 mg
Iron (iron (II) sulphate, monohydrate) 75 mg
Iodine (potassium iodide) 3,5 mg
Copper (copper (II) sulphate pentahydrate) 10 mg
Manganese (manganese sulphate monohydrate) 7,5 mg
Zinc (zinc oxide 120 mg; amino acid zinc chelate hydrate) 25 mg
Selenium (sodium selenite) 0,13 mg
Technological additives: Tocopherol extracts from vegetable oils.
Analytical Components:
Crude Protein 28%
Fats 12%
Crude Fibre 3%
Organic Matter or Ashes 6%
Calcium 0,8%
Phosphorus 0,75%
EPA + DHA 0,09%
Arachidonic acid 0,06%
Metabolizable Energy 3690kcal/kg

Transition Guidance:
Cats are very sensitive to, and often get stressed by changes in their environment or daily routine. A new diet is a significant change and we must be patient and allow our cat time to adapt.
When switching your cat's diet, we recommend mixing their current food with VeggieAnimals over a period of at least one month so that your cat can adapt gradually to their new diet
torage and expiration:
12 month shelf life when kept in original packaging and away from humidity and excessive heat. Best before date on packaging.
Advice

Regardless of your cat's diet, a blood test is advisable as part of their annual health checks.
Daily Feeding Guidance:
The amounts in the table are intended as guidelines only. The food intake should be adjusted according to the age, climate and activity level of the cat