 
VEGGIEANIMALS CROCCHETTE VEGAN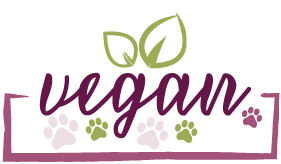 Per cane


Complete and balanced food for dogs, made with 100% plant-based (vegan) ingredients. Available in 2kg and 12,5kg bags.
Formula professionally developed by a veterinary team, suitable for all ages and sizes and nutritionally complete. No food supplements needed.
Complete food, no need to supplement.
Suitable for all ages and breeds.
Any questions? Talk to our vet.
ALL INGREDIENTS AND VITAMINS IN OUR PRODUCTS ARE VEGAN
100% vegetable and natural food for DOGS

VeggieAnimals for Dogs is suitable for all dogs and is particularly recommended for dogs with:
Allergies
Prevention of urine crystals
Overweight and obesity
Skin and hair problems
Digestive problems
Heart problems
Canine Leishmaniasis
Animal protein intolerance
Neutered dogs

Composition:
Corn protein, rice, peas, whole grain corn, dehydrated potato, wheat protein, brewer's yeast, barley, soybean oil, carrot, apple, calcium carbonate, calcium phosphate, sodium chloride, potassium chloride,
L-lysine
, yucca extract, choline chloride,
L-methionine, L-tryptophan
, dehydrated vegetables (alfalfa, calendula petals, spirulina, sage, fenugreek, parsley, rose hips, dill) and plant extracts (red fruits extract, dandelion seed extract, mint leaves extract, green tea seed extract, grapefruit extract, orange extract, lemon extract, grape pip extract, cucumber extract, chicory extract (
rich in FOS
), garlic extract, thyme extract, rosemary extract, aloe vera extract, liquorice root extract), taurine, natural antioxidants, vitamins and trace elements premix
About Ingredients:
Suitable for human consumption
100% plant-based, 100% natural
Free of addictive substances, saborizantes chemists, medicinal substances, toxins and hormones.
Vitamins, pro-vitamins, trace elements and minerals per kg:
Vitamin A 18000 UI
Vitamin D3 1200 UI
Vitamin E 150 mg
Taurine 450 mg
Iron 190 mg (440 mg iron carbonate (II))
Iodine 2 mg (3 mg potassium iodide)
Copper 11 mg (44 mg copper sulphate (II) pentahydrate)
Manganese 16 mg (38 mg manganese oxide)
Zinc 145 mg (190 mg zinc oxide)
Chelated zinc 25 mg (250 mg Zinc amino acid chelate)
Selenium 0.2 mg (0.45 mg sodium selenite)
Technological additives: antioxidant tocopherols.
Contains methionine and vitamin B12.
Analytical Constituents:
Protein 25%
Crude oils and fats 10%
Crude fibre 3%
Inorganic matter 6%
Moisture 10%
Calcium 0.9%
Phosphorus 1%